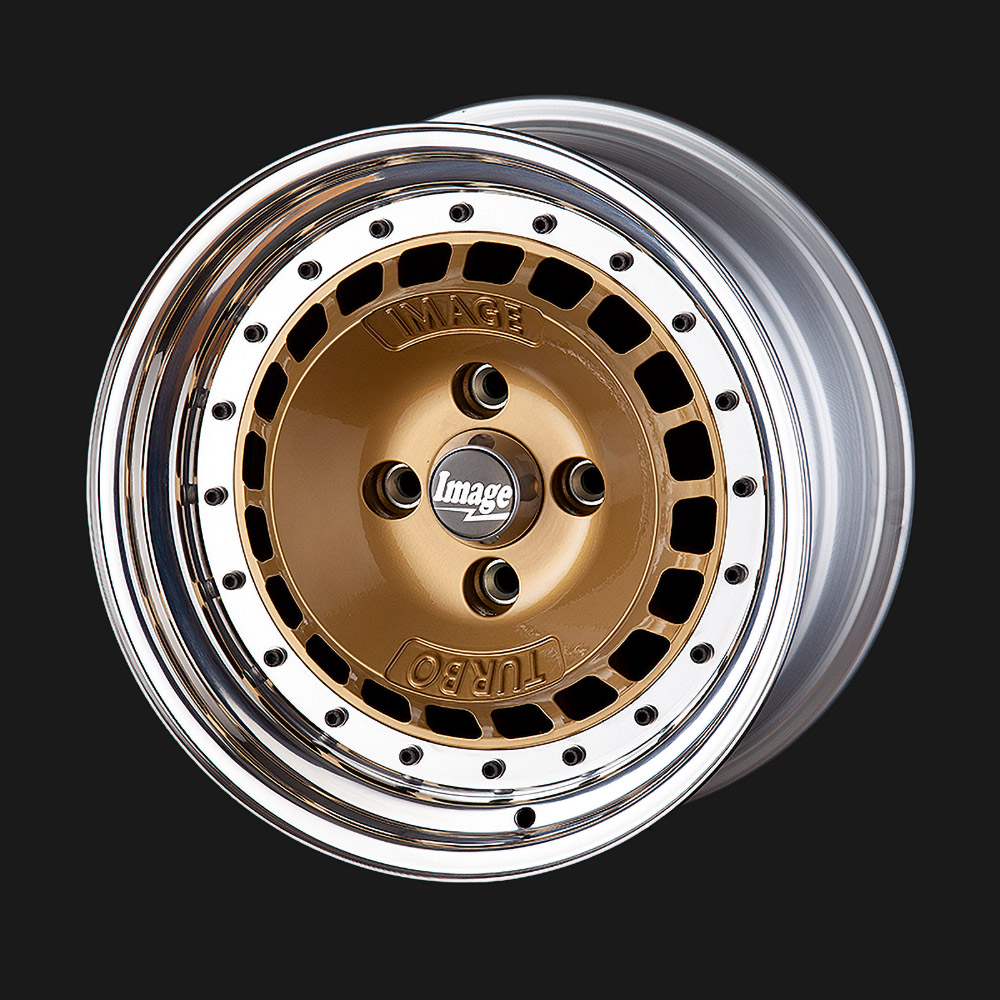 IMAGE TURBO
A MOTORSPORT CLASSIC, NOW A HOT FAVOURITE IN THE RETRO CAR SCENE
OUR NEW IMAGE TURBO.  THE WHEEL CAN HAD WITH OR WITHOUT THE LETTERING ON THE FACE.
SHOWN ABOVE: 15″ SANDWICH MOUNT
AVAILABLE IN FRONT MOUNT, SANDWICH MOUNT, CLASSIC BUILD OR REAR MOUNT CONFIGURATION
13″ TO 16″ DIAMETERS
ANY PCD UPTO 130MM AND CENTRELOCK FITMENTS
PAINTED CENTRES WITH POLISHED, PAINTED OR ANODIZED RIMS.
WHEEL PRICING
| WIDTH | DIA 13" |
| --- | --- |
| 5.0" | £POA |
| 5.5" | £POA |
| 6.0" | £POA |
| 6.5" | £POA |
| 7.0" | £POA |
| 7.5" | £POA |
| 8.0" | £POA |
| 8.5" | £POA |
| 9.0" | £POA |
| 9.5" | £POA |
| 10.0" | £POA |
| 10.5" | £POA |
| 11.0" | £POA |
| 11.5" | £POA |
| 12.0" | £POA |
| 12.5" | £POA |
| 13.0" | £POA |
| 13.5" | £POA |
| 14.0" | £POA |
| 14.5" | £POA |
| 15" | £POA |
| 16.0" | £POA |
All prices are per wheel and plus VAT
| WIDTH | DIA 14" |
| --- | --- |
| 5.0" | £POA |
| 5.5" | £POA |
| 6.0" | £POA |
| 6.5" | £POA |
| 7.0" | £POA |
| 7.5" | £POA |
| 8.0" | £POA |
| 8.5" | £POA |
| 9.0" | £POA |
| 9.5" | £POA |
| 10.0" | £POA |
All prices are per wheel and plus VAT
| WIDTH | DIA 15" |
| --- | --- |
| 5.0" | £POA |
| 5.5" | £POA |
| 6.0" | £POA |
| 6.5" | £POA |
| 7.0" | £POA |
| 7.5" | £POA |
| 8.0" | £POA |
| 8.5" | £POA |
| 9.0" | £POA |
| 9.5" | £POA |
| 10.0" | £POA |
| 10.5" | £POA |
| 11.0" | £POA |
| 11.5" | £POA |
| 12.0" | £POA |
| 12.5" | £POA |
| 13.0" | £POA |
| 13.5" | £POA |
| 14.0" | £POA |
| 14.5" | £POA |
| 15.0" | £POA |
| 16.0" | £POA |
All prices are per wheel and plus VAT
| WIDTH | DIA 16" |
| --- | --- |
| 5.0" | £POA |
| 5.5" | £POA |
| 6.0" | £POA |
| 6.5" | £POA |
| 7.0" | £POA |
| 7.5" | £POA |
| 8.0" | £POA |
| 8.5" | £POA |
| 9.0" | £POA |
| 9.5" | £POA |
| 10.0" | £POA |
| 10.5" | £POA |
| 11.0" | £POA |
| 11.5" | £POA |
| 12.0" | £POA |
| 12.5" | £POA |
| 13.0" | £POA |
| 13.5" | £POA |
| 14.0" | £POA |
| 14.5" | £POA |
| 15.0" | £POA |
| 16.0" | £POA |
All prices are per wheel and plus VAT
| WIDTH | DIA 17" |
| --- | --- |
| 5.0" | £POA |
| 5.5" | £POA |
| 6.0" | £POA |
| 6.5" | £POA |
| 7.0" | £POA |
| 7.5" | £POA |
| 8.0" | £POA |
| 8.5" | £POA |
| 9.0" | £POA |
| 9.5" | £POA |
| 10.0" | £POA |
| 10.5" | £POA |
| 11.0" | £POA |
| 11.5" | £POA |
| 12.0" | £POA |
| 12.5" | £POA |
| 13.0" | £POA |
| 13.5" | £POA |
| 14.0" | £POA |
| 14.5" | £POA |
All prices are per wheel and plus VAT
| WIDTH | DIA 18" |
| --- | --- |
| 5.0" | £POA |
| 5.5" | £POA |
| 6.0" | £POA |
| 6.5" | £POA |
| 7.0" | £POA |
| 7.5" | £POA |
| 8.0" | £POA |
| 8.5" | £POA |
| 9.0" | £POA |
| 9.5" | £POA |
| 10.0" | £POA |
| 10.5" | £POA |
| 11.0" | £POA |
| 11.5" | £POA |
| 12.0" | £POA |
| 12.5" | £POA |
| 13.0" | £POA |
| 13.5" | £POA |
| 14.0" | £POA |
| 14.5" | £POA |
| 15.0" | £POA |
| 16.0" | £POA |
All prices are per wheel and plus VAT
| EXTRA PARTS | | |
| --- | --- | --- |
| STEEL CENTRELOCK CONVERSION HUBS WITH ALUMINIUM NUTS/SPINNERS | SET OF 4 | £POA |
| ALUMINIUM CENTRELOCK CONVERSION HUBS WITH ALUMINIUM NUTS/SPINNERS | SET OF 4 | £POA |
| LOCK NUTS/BOLTS | SET OF 4 | £POA |
| SPECIAL FINISHES | | |
| ANODIZED OUTER RIMS | PER PART | £POA |
All prices are plus VAT