ALLOY WHEEL FINISHES
BILLET STYLES
STANDARD SUPPLY
Outer rim: Polished
Inner Rim: Anodized
Centre: Polished or Powder Coated
CAST STYLES
STANDARD SUPPLY
Outer Rim: Polished
Inner Rim: Anodized
Centre: Powder Coated
Polished rims and centres will need extra care and cleaning to maintain the finish. The polished areas will need to be regularly cleaned with hot soapy water and if any signs of oxidization are visible the polished areas should be cleaned with Solvo Autosol, available at most good car accessory shops. If you do not want to spend time cleaning and polishing you will need to look at the alternative options available. Then if you decide on a different finish to the standard supply above, just stipulate this on your order.
WHEEL BUILD OPTIONS
Most of the wheels in our range can be built to the following options.
SM = Sandwich mounted centre with black or silver perimeter bolts.
FM = Front mounted centre with black or silver perimeter bolts and also with classic hidden bolts. All the wheels are labelled with options available to the style shown.
POLISHED
Standard Supply on Outer Rims / Billet Centres.
We can also polish the inner rims if required but would be an extra charge for this.
All our standard polishing is hand done using industrial polishing mops and polishing compound. The compound is placed on the mops then the components offered to the mops to polish the aluminium to a mirror finish.
MAINTENANCE
Must be cleaned regularly with hot soapy water, and polished with Solvo Autosol. Not recommended if you do not enjoy giving your wheels the TLC treatment. Having said this most of our customers want the polished finish and do look after their wheels, hence it being our standard finish on outer rims and billet centres.
NEW VIBRATORY POLISHING
This is a new finish to our range it is the ultimate in polish finish. After the rims and billet centres are hand polished we put them through this new system.
The benefits of this is it makes the polish more like a chrome look finish it also polishes between the spokes on the billet centres something that could not be achieved by hand polishing. Maintenance is the same as for polished rims. The down side is that it is a slow process so does cost extra. Contact us for more details.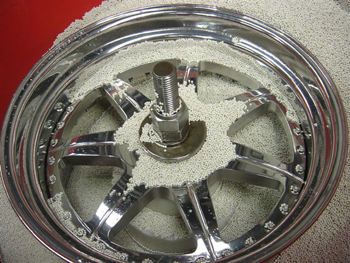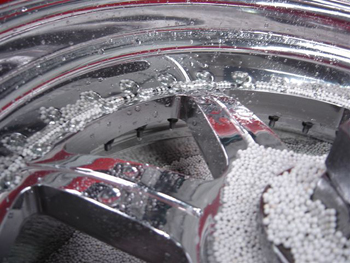 POWDER COATED
STANDARD SUPPLY ON CAST CENTRES
We can also supply this finish on the billet centres and outer rims at no extra cost.
Powder Coating is 'stoved' onto the components. The components are first pre-treated and then sprayed with the powder coat. The powder is then baked onto the component through our custom made industrial oven.
MAINTENANCE
Requires very little maintenance. Just clean with hot soapy water when you clean your car. Very hard wearing finish.
COLOURS AVAILABLE
SILVER
GOLD
ANTHRACITE
GLOSS BLACK
MATT BLACK
POST OFFICE RED
GLOSS WHITE
GRAPHITE
ORANGE
BRITISH RACING GREEN
YELLOW
GREY PRIMER
CHROME PAINT at extra cost
CHROME POWDER COATED OUTER RIMS
This is not Chrome but does give the appearance of a chrome/polished type of finish. It is not as bright as a polished rim but is ideal for people who want the appearance of a polished rim but hard wearing and easy to clean for everyday use.
ANODIZED
STANDARD SUPPLY ON INNER RIMS
We can also supply this finish on Outer Rims. Extra charge per item.
Anodizing is an etched in process, which coats the metal with a protective layer by electrolysis. It will give a satin / matt finish look to the components. It is ideal on the inner rims, as these do not normally get cleaned.
MAINTENANCE
Again like Powder Coating, requires very little maintenance. Just hot soapy water.
COLOURS AVAILABLE
GENERAL MAINTENANCE
Most maintenance guidelines are stated under the relevant FINISHES. It is important to never use ALLOY WHEEL CLEANER, (Acid or Alkaline based). They are only suitable for all over painted one piece wheels. It will stain and damage your rims and attack the coating on the perimeter bolts.
If your car is garaged for long periods, or through the winter, we strongly recommend you give the wheels a heavy coating of Image Wheel protector or WD40. This will greatly help reduce oxidization problems on the polished aluminium surfaces.